Canada's national health and fitness day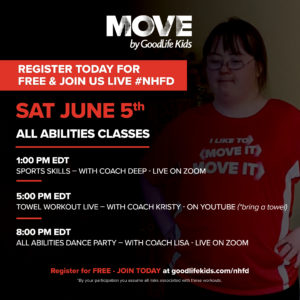 JUNE 5, 2021
Join us for any of our FREE adapted physical activity sessions, and get active with others across Canada this National Health and Fitness Day.
Coaches Deep, Kristy and Lisa are specialized in leading individuals with disabilities through physical activity and fitness, and look forward to you joining them for an hour of fun and fitness. And yes, it's FREE!
All classes are open to all demographics and abilities.
PLATFORM
TIME
CLASS
EQUIPMENT
REGISTER / VIEW
Zoom
1-2pm Eastern Time
11-12am Mountain Time
Sport Skills
with Coach Deep
None
REGISTER HERE
YouTube Live
5-6pm Eastern Time
3-4pm Mountain Time
Towel Workout
with Coach Kristy
One towel
(beach or bath)
SUBSCRIBE AND VIEW HERE
Zoom
8-9pm Eastern Time
6-7pm Mountain Time
Dance Party
with Coach Lisa
None
REGISTER HERE
Looking for physical activity programs for youth with disabilities? MOVE by GoodLife Kids has been designed exclusively to get youth aged 12-21 with intellectual disabilities and autism active. To learn more and register, visit our MOVE webpage.
Sign up for our newsletter to stay informed of future events.
Questions? Reach out to move@goodlifekids.com.
MEET THE COACHES
Coach Deep

Living In: Windsor, ON
Coaching Style: I like to know your goals and work together with you to achieve them!
Passionate About: I love social justice advocacy and have attended a multitude of conferences regarding different social justice topics to better learn how I can help make a difference.

Coach Kristy

Living In: Prince Albert, SK
Coaching Style: In my +20-years of experience in the fitness industry, I've worked with youth and adults with disabilities since 2008, creating inclusive classes and environments.
Passionate About: I also love dogs, animal rescues, and animal sanctuaries. Ask me about my dog Gertie!

Coach Lisa

Living In: London, ON
Coaching Style: I believe in finding your "thing" in fitness – for some that is a class, weight lifting, or even as simple as walks with friends.
Passionate About: I've been involved in over 30 theatre productions in my life time – more recently I enjoy the backstage chaos rather than being centre-stage!