The MOVE program has allowed our students to generalize their joint attention and observational learning skills in group fitness classes.
Since the MOVE by GoodLife Kids Program started in 2020, the program has impacted a total of 81 autistic youth within partner programming at Janus Academy, Calgary AB.
Janus Academy has shared experiences from students' who have been positively impacted by the MOVE by GoodLife Kids Program:
Student A
The challenge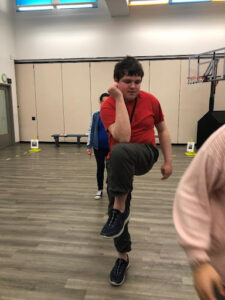 From the first day student A started at Janus, he was unable to participate in any physical education programs with his peers. He has high sensitivity to noise, sounds and unpredictable movement around him so participating in gym for any physical education program (dance, soccer, or fitness class) had to be on hold. We had to create an intensive one on one program for him and an instructor to help him to be successful.
Solution:
We strongly believed that with a systematic approach, he could eventually participate with his peers in these physical movement programs. In January 2023, we partnered with MOVE Coach Lou to do a short 10-minute one-on-one session. These sessions occurred weekly until February.
Results/Outcomes:
At the start of February 2023, we integrated two of his peers to join him and MOVE Coach Lou at his scheduled time. This was such a success that by the end of February, he was able to join his entire classroom for a partial fitness session. The amazing thing is that he is now able to attend, imitate, and follow MOVE Coach Lou's fitness movements precisely and independently and can remain with his peers for the entire fitness class.
A parent testimonial:
I am so thankful that my son can be a part of the MOVE by GoodLife Kids Program. Many studies have demonstrated the benefits of physical activity, such as muscle strength, endurance, cardiovascular efficiency, and mental well-being. For my son, it also has helped him tremendously to improve his gross motor skills, hand-eye coordination, and self-regulation skills. My hope is that my son can continue to benefit from this amazing program that provides him with the tools to incorporate such a healthy habit into his life.
– Janus Academy Parent
Value of the MOVE by GoodLife Kids to Janus Academy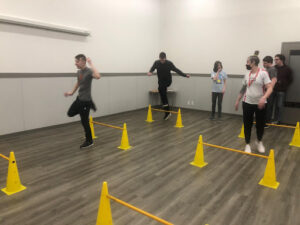 The MOVE by GoodLife Kids Program is highly valuable to the well-being of our students. It assists us with programming objectives (i.e. what skills to prepare Janus students with when they go to community fitness programs), targeted movement and fitness goals and a real-life group fitness experience. Another significant benefit of fitness is that many of our youth with ASD also live with a secondary diagnosis (anxiety, depression etc..), and have a higher prevalence of mental health disorders and fitness supports with reducing the impacts.
Our long-term partnership has provided our youth with access to a fitness program by trained professionals that we would not otherwise have been able to implement without the funding support.
Janus Academy would recommend MOVE by GoodLife Kids Program to other schools/partners based on all the benefits and outcomes that our students have received. It has been wonderful to build a partnership with community members such as GoodLife Kids Foundation.